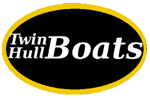 Twin Hull Boats
Presenting Lines:
135 Bywatyr Lane
Bridgeport, CT 06605
203.334.4403
The folks at Twin Hull Boats in Bridgeport, Connecticut, are like guardian angels for boat buyers. Purchasing a boat – the right boat – can be a big and intimidating investment. They understand that at Twin Hull Boats, and they make it their mission to create a boat-buying process that is easy, helpful and matches you to a boat that is right for you.
Twin Hull Boats can also assist you with your financing once you find the right boat that fits your needs. And chances are that boat will be a versatile, stable catamaran. Twin Hull Boats is a full-service, authorized power catamaran dealer for such lines as World Cat, Sea Way and Eastern Boats.