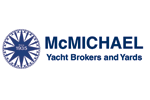 McMichael Yacht Brokers
Presenting Lines:
447 E. Boston Post Road
Mamaroneck, NY 10543
914.381.5900
McMichael Yacht Brokers has been serving the local boating community since 1935 from their Mamaroneck, NY headquarters. McMichael is a family-owned business with two Mamaroneck yards offering full service storage and repair, as well as a fantastic collection of new and used boats on display.
The McMichael team of eight full-time brokers is committed to providing the highest level of service, long after your purchase is complete. In addition to the Mamaroneck headquarters, McMichael has sales offices in Essex, CT and Newport, RI to serve our clients. We look forward to working with you!