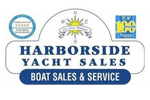 Harborside Yacht Sales
Presenting Lines:
131 Grove St
Clinton, CT 06413
Phone: 860.669.1705
Situated on Long Island Sound with great access by land or water, Harborside Marina and Yacht Sales sells only high-end boats with unique characteristics and exceptional quality. Harborside's main facility is centrally located in Clinton, Connecticut, and offers dockage, quick launch, indoor showrooms and more.
With a great selection of Chris Craft, True North, and Bennington vessels, the folks at Harborside Yacht Sales are skilled at matching customers with the right boat. They were one of the first 100 dealers in the United States to meet stringent criteria and earn the distinction of becoming a Marine Certified Dealer. They've also been awarded the top Customer Satisfaction Index Award from Chris Craft for five years.