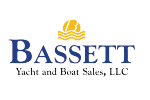 Bassett Yacht and Boat Sales
Presenting Lines:
Monterey Boats
Sealine Yachts
177 Boston Post Road
Westbrook, CT 06498
Phone: 844.278.2628
At Bassett Yacht & Boat Sales, we know that boating is a way of life and a wonderful way to spend quality time with family and friends, making memories that last a lifetime. We work hard to ensure your boating experience is an enjoyable one right from the start…whether you're taking advantage of our award-winning customer service, or joining us on a rendezvous that we host for Bassett customers.
As second generation owners, we feel it is important to continue our heritage as a family owned business. Bassett has always been one of the top boat dealers in the country… and is proud to be Monterey's 3rd largest dealer in the US! We look forward to welcoming you into our Bassett Boat family.