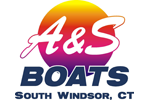 A & S Boats
Presenting Lines:
144 Water Street
Norwalk, CT 06854
Phone: 203-939-9993
735 John Fitch Blvd/US Route 5
South Windsor, CT 06074
Phone: 860-528-8682

www.asboats.com


A&S Boats began in 1957 in Livermore, CA by two dedicated boaters, Al and Shirley Passeri, when they decided to build their first boat. Two boats later, after coming to Connecticut, they saw the need for a store that sold superior boating products.
Our factory-trained sales staff lives to help you! We save you both time and money, by helping to guide you into the right boat for the right price, the first time. We do this by asking the right questions, being good listeners, and having extensive product knowledge.